The Woodland School Garden

A Web Quest for Elementary Students
The Woodland School is going through a renovation right now.
When it is finished we will have a wonderful new school. It will be bigger and have many new sections. The building will look great.

It will need new gardens and trees to make it look even prettier.
The children will help plan, plant and take care of the new garden. There will be sections for each grade level to take care of.
You will help make Woodland School a great and beautiful place.
Your class has to plan its section of the garden. You have been learning about plants in the Second Grade Science unit.
You will decide which 5 plants will be best for your part of the garden.
You will decide what they need (sun, shade, soil, fertilizer, etc.) to grow.
You will decide how and where to plant them.
You will need to find out how to take care of them after they are planted.
You will present your choices to the class with a display.
return to main menu
You will need to take the following steps to complete the task.
1. Decide what five kinds of plants your group wants to plant in the garden. Be sure to talk about which plants would be good for your section of the garden.
2. Start a journal of the information that your group needs to find. The first thing you will want to do is write down all of the things that you already know about the plants. Then write down new information as your group finds it.
3. Write a list of questions that you want to know about the plants. Some suggestions are below:

Where does the plant live?
How much sun or shade does it need?
Is it a vegetable or flower?
Is it an annual or perennial?
What kind of soil is best?
Will the plant need any special care?
Are there pests that can be a problem for this plant?
Where can you get this plant?
4. Research your plant choices and answer the questions that you have made. Be sure to write down any new facts that you find. Feel free to make new questions while you do your research.

5. When you have answered all of your questions, discuss the following:
Would these plants be able to survive in the Woodland School Garden?
Are there any special things that they would need (fence, stakes,etc.)?
What would your classmates think of your choices?
What would the other members of the school community think of your choices?
6. Once you have agreed that these plants would be a good addition to the Woodland School Garden make a display for the class.
Remember that you should be teaching your classmates about the plants. You should include reasons why these plants should be included in the class section of the Woodland School Garden.
7. Plan out your presentation for the class. What are you going to say? What questions might people ask? What will your presentation look like?
8. Make your presentation to the class.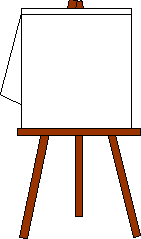 Group Advice:
It is very important that everyone have a job for this project.
Here are some suggestions for jobs:
Each member can be responsible for researching a certain plant using the resources here.
One member can be responsible for checking plant books and encyclopedias for facts.
One member can be responsible for recording facts.
One member can be responsible for finding pictures or drawing pictures of the plants.
One member can be responsible for gathering materials each day.
Remember that you are working as a team.
Don't argue.
Everyone needs to help!
return to main menu
Here are a list of links that will help you find information.
Looking For Information:
Be sure to answer the questions that your group made.
Make sure that you are writing down the facts as you find them in your journal.
Use a lot of different ideas for your presentation (pictures, drawings, colors, etc...)
Use books about plants and use the Internet resources listed here.
Making your display:
Plan your presentation before starting. What will it look like? What will you use (posters, KidPix, PowerPoint, crayons, markers, etc.)?
Make a sketch for a rough draft of your presentation.
Make sure that your display work is neat and colorful.
Use different types of pictures and label with the name of your plants.
Be sure to list the information on why you think these plants will be the best choice.
return to main menu
Use the questions below to make sure that you have completed your project:
Did you answer all of your question?
Did you discuss how your classmates and other member of the Woodland School community would feel about the plants?
Is your presentation good enough to teach your class about your plant choices?
Can your presentation convince your classmates that these are the best choices for the Garden?
Is your display neat and full of information?
Did everyone in your group help?
return to main menu
Through this Web Quest you have explored five plants in depth and listened about other plants through other group's presentations.
Based on what you have learned which plants would be the best choices for our section of The Woodland School Garden?
What have you learned about planning a garden?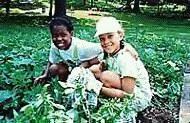 Extra:
Great Work! You have completed your Web Quest and Presentation and the class has chosen your plants to be part of the Garden. Now we have lots of work to do. Below are a list of things that need to be done in our new Garden:
Where will we buy or find the plants?
Where will we get the money? Maybe we can ask for donations or have a fundraiser. Or we can get a grant from the National Gardening Association.
When should we prepare the soil and plant the plants?
Who will be in charge of the garden once it is planted?
return to main menu
Notes to the Teacher
Lesson Title: The Woodland School Garden
Curricular Area: Science, Language Arts, Reading
Goal/Purpose: This web quest is designed to help the student with reasoning skills. The students will also get a chance to gather information to solve the problem. They will also make a short public speech and presentation.
Problem Solving Process: The students will approach this project from a group point of view. They will have to make decisions based on information and other student's input. Their decision will be what is best for the community project. This will encourage the students to examine the problem from a global approach.
Interdisciplinary Connections: Technology, Art, Science, Reading, Language Arts
Grade Level: This is designed to be a joint project at The Woodland School. It will involve each grade level. Each grade will create a section in the Garden that will focus on its specific science topics: Kindergarten - life cycles; First Grade - Soils and Worms; Second Grade - Plants; Third Grade - Insects
Materials:
Art supplies (crayons, scissors, poster board, glue, and any other supplies that might be needed for creating the presentations.)
Books to share about plants (soil, insects, seasons, life cycles)
Computer with Internet access
Power point, KidPix or Hyper studio (optional for presentations)
Prerequisite Learning: The students should have a general knowledge of how plants grow and what plants need to grow healthy. The students should have a working knowledge of what responsibilities are included in taking care of a living thing.
Suggestions: Contact your local garden club. They will be a great asset. They may even come in to talk to the students about garden design, plants and plant needs.
return to main menu